Why do people love natural stone fountains?-Because of the natural Stone fountains can bring us some benefits
The large stone fountain, granite and marble fountain is a kind of facility to humidify the air. The appearance of the stone fountain adds beauty to the city's landscape and enriches the spiritual enjoyment of urban residents. Stone fountains can either exist alone or combined with buildings.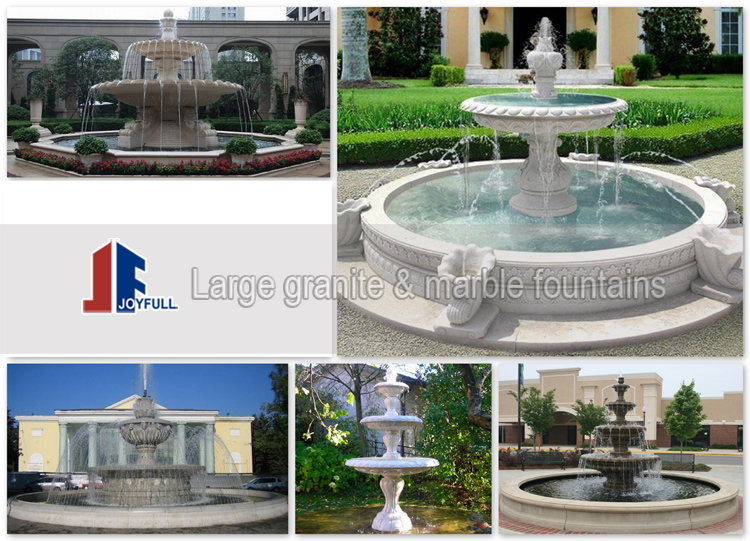 large city fountain made from natural granite and marble

Firstly, The Stone Fountain can be Ambassador of City Beautification
The key to distinguishing the quality of city sculpture art is determined by many factors. It is not only closely related to the theme, concept, and level of artistic expression, but more importantly, whether it can be skillfully integrated with the city's natural environment and humanistic environment and whether they can interact with the residents are closely related.
Because the carved stone fountain can present a variety of forms, not only the fountain can be designed as a group, but also the fountain can be designed as a single sculpture; of course, it can also be designed as a special fountain with a strong artistic expression, so from the perspective of city beautification, the role of sculptural fountains cannot be ignored. In addition, while designing them as artworks, they also provide places for local residents and pedestrians as well as tourists to appreciate, communicate and play.
Secondly, the Stone Fountain can effectively improve people's physical health
                                                                                  Custom large fountan, polished finish
Studies have shown that the air negative ions generated near the fountain are much more than the scenic area.
Therefore, the environmental quality around the fountain and the climatic difference are greatly improved, and the stone fountain is reduce the temperature of the ground, so the living environment of people are also improved, and What's more important is that it can effectively prevent some respiratory diseases caused by air pollution, especially it has a very significant effect on the elderly.
In summary, the stone fountain has a good soothing effect on the human body, it will make people feel comfortable and rejuvenated.