The Application of Stone wall cladding
The natural stone wall cladding comes as individual pieces of stone and gives virtually endless possibilities to create random patterns and designs. Not only can they be used on internal walls, external walls and elevations, but also in landscaping applications such as garden walls, patios, paths and stairs.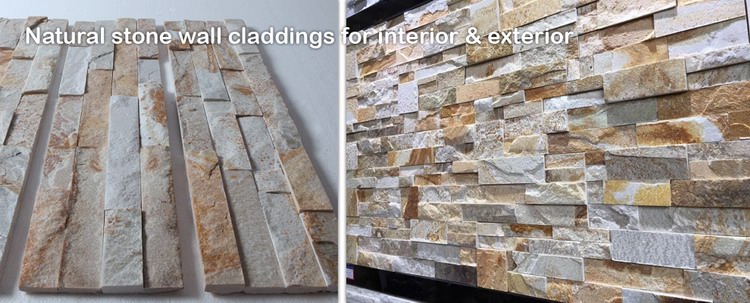 1)  Stone Cladding For Home
The interior of your home is a personalized sanctuary that presents both the characteristics and style that you would like to endorse onto others. This may range from contemporary, rustic, and traditional to the downright weird, quirky and abstract. Bring out your personality through the interior of your home with interior stone wall cladding. Interior stone walls are timeless, elegant, and give a magnificent touch to the décor of your place.
2)   Stone Cladding For Garden
The Stone cladding walls replicate natural stones to give your garden walls the look and feel of natural stone.
It is the most sought after walling used within landscape projects.
Suitable for Garden Walls, Raised Flowerbed, Water Features, BBQs, Piers, Fireplaces, Houses etc.   
3)  Stone Cladding For Building
The cladding stone or cladding panels, gives you virtually endless possibilities for internal and external stone cladding finishes. Stone cladding can be used for projects as small as a feature wall or as large as entire facade of a hotel or other commercial building.
Our wide range of stone cladding can be used to create a unique finish to both interior and exterior spaces.
We, Joyfull Stone- the supplier of stone products, offering our customers the high quality stone at affordable prices. We have a variety of styles and colours to choose from, welcome to contact us to discuss your requirements.